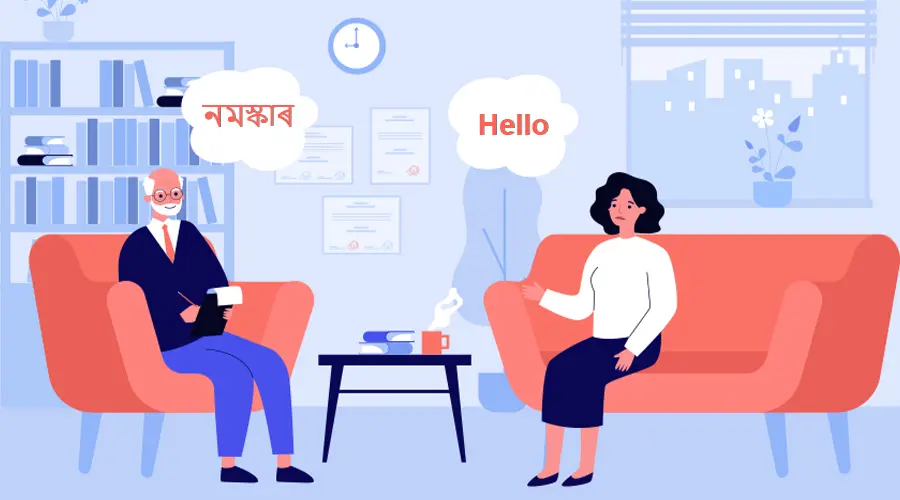 Assamese, the state language of Assam, is an Indo-Aryan language. The number of native Assamese speakers are more than 23 million. Throughout northeast India, most people speak the Assamese language. The Constitution of India lists 22 languages, and Assamese is one of them. There are different dialects related to the language as the states additionally share Bodo and Bengali speakers. In addition to Assam people, the people from nearby states like Arunachal Pradesh and Nagaland also speak Assamese.
At VoiceMonk, We handle all kinds of translation. You can get a complete guide in more than 200 languages. We will provide an unforgettable experience for our visitors. You have a vast selection of options from which to choose an Assamese linguist or we can cast for you to discover that one-of-a-kind voice. It's ideal for your content. One of the key benefits of using professional translators is that they will ensure authenticity and accuracy, which cannot be guaranteed by any internet translation service. Those websites are unable of comprehending your needs and those of your clients in the same way that our Assamese Translation Service does. It cannot provide the meaning you're looking for as the human touchpoint is compromised.
VoiceMonk AssameseTranslation Service
The necessity to reach your target clients is the driving force behind your investment in content localization. We must focus on the possibilities beyond the boundaries if we are to capture native clients. Successfully appealing to a global audience requires fluency in multiple languages and a professional level of production value in the form of written and audio content. Our Assamese Translation Service will ensure that your material reaches its intended audience with the utmost precision and skill. This attempt to tap into the global market will aid in increasing your foreign sales. Localization is becoming increasingly vital to gain access to the global market and to elicit emotional responses from clients.
Our online translation ecosystem and product guide allow our clients to get a better understanding of our services and VoiceMonk Studio. Furthermore, we include a clause allowing clients to request a redo of the project after it has been finished if they are unhappy with the results.
Your Assamese-language material will provide you with an advantage over your market competitors. It will also aid in the expansion of the Indian market and the creation of a well-known brand name. Our team will stay in touch with you from the initial concept to the finished product to ensure the work is completed as per your specifications. You can contact us whenever it's convenient for you.
VoiceMonk Localization Services
Apart from language translation, we also offer document translation services, where trained linguists will translate your formal documents such as legal contracts, reports, processes, brochures, catalogs, and more. We also offer interpreting services and website translation, which is one of the most crucial steps in expanding an organization's reach. Proofreading is also an important part to make sure that the content translated is accurate and there is no misinformation with it. This also helps from the loss of any important content at the time of translation.
VoiceMonk is a well-known translation agency that provides Assamese Translation Services. Our services are Technical Translation, Academic Translation, Video Translation, Website Translation, Game Translation, Book Translation, Manual Translation Reach us at +91 8700295007 or
. You can mail your requirements at info@voicemonk.in
Our Assamese Translation Service include:
Document Translation Agency
Legal Translation Agency
Medical Translation Service
Technical Translation Agency
Academic Translation Agency
Business Translation Agency
Financial Translation Service
Documentary Translation Agency
Multimedia Translation Service
Assamese to English Translation Service
English to Assamese Translation Service
Hindi to Assamese Translation Service
Any Language to Assamese Translation Service