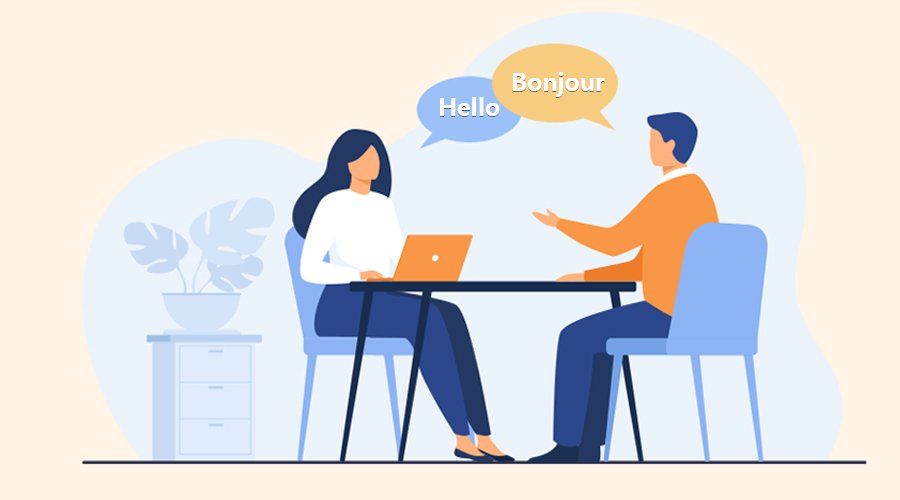 French is one of the six official languages in the UN and one of the world's major languages, with more than 300 million speakers worldwide. The language has the status of being the most reputed foreign language used in several international communications. Enjoying the status of the official language or the second language in 55 countries, French is one of the languages, which is widely used after English and is one of the most studied foreign languages worldwide. Around 45% of modern English have French words. The language has a variety of accents and dialects from different areas such as northern dialects, southern dialects, and Standard French. The language has a long history of being the international language of literature.
At VoiceMonk Studio, we aim to make your business available to global audiences. Our French Translation Service has various linguists who will create and transform your content to fit global market needs. Our linguists are native French speakers, which will add much more originality to the content. Our team has the expertise in handling multiple projects with utmost quality within a realistic budget.
Are you looking for services in the area of subtitling, transmission, transcription, translation and many more, then VoiceMonk Studio is the answer? With more than sixteen years of experience, we have worked on more than 5,000 projects. So, for this reason, while hiring linguists for a particular project we ensure they are the native speakers of the region with an affluent educational background and have profound knowledge on the topic. This feature always helps us in gaining an edge over other translation services as our final product is of premium quality and all the requirements of the customers are met.
With the snap of your fingers, you can get your translation complete, which would not have been possible unless our French Translation service is one of the top-notch in the industry. We believe in organic growth, and our organization has dedicated divisions that provide various services and guide you at all stages to make your content available across the industries.
The French language is being widely used language after English, and your project must not be confined to one or two languages. The mantra for the fastest growth of a business in today's world is 'Reach.' With our full spectrum of language services with an unparalleled level of efficiency and assisted by the linguists in our French Translation Service, your business will reach a multinational spirit of success. Our mission is to find the best match for your needs by putting together procedures, technology, and professionals to help you reach the touchpoint of your aspirations.
We invite you to go through our pool of services on our website, and there is no time bar to get in touch with VoiceMonk.
VoiceMonk is a well-known translation agency that provides French Translation Services. Our services are Technical Translation, Academic Translation, Video Translation, Website Translation, Game Translation, Book Translation, Manual Translation Reach us at+91 8700295007 or

. You can mail your requirements at info@voicemonk.in
Our French Translation Service include:
French Document Translation Agency
French Legal Translation Agency
French Medical Translation Agency
French Technical Translation Agency
French Academic Translation Agency
French Business Translation Agency
French Financial Translation Agency
French Documentary Translation Agency
French Multimedia Translation Agency
French to English Translation Service
English to French Translation Service
Hindi to French Translation Service
Any Language to French Translation Service