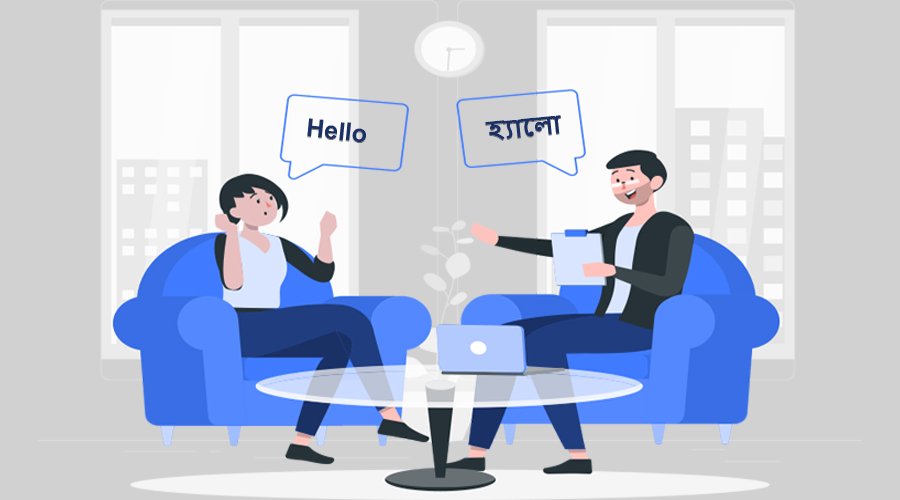 Bangladeshi or Bangla is the official and national language of Bangladesh. 98% of the population speaks Bengali as their first language. The indigenous people of the country speak a variety of native languages. It is an Indo-Aryan language but has the influence of Austroasiatic languages as well. There are various other dialects associated with the language that vary from region to region.
VoiceMonk studio is a renowned translation business that provides high-quality services over the internet, but you can also speak with us in person at our locations. We are one of the world's leading translation companies, providing high-quality services at a reasonable cost. We provide high-quality translation services for both personal and business purposes, with a short response time. VoiceMonk has recruited thousands of skilled translators after searching for just the best linguists. Our language services are available across the country ensuring that no one is left behind when it comes to high-quality translation.
VoiceMonk Translation Service
We are your go-to resource for translating business papers, as well as entire websites and web pages. Our multilingual publishing process is quick but effective, and our language services include a wide range of languages. Our software localization staff is always available to assist you with translating your software or app into any language. Another service we offer is certified or notarized translation. We offer at some of the most affordable rates available, and we ensure that our translation will be accepted.
We handle every translation project with care and ease, and we think that low prices are very important. Clients would not be able to afford our service if costs were not affordable, which is why we always try our best to guarantee rates are fair and acceptable for all parties concerned. Bangladeshi Translation Services understands the significance of adhering to deadlines and makes every effort to do so. With our short turnaround time, we meet deadlines. We are diligent as evidenced by our professional demeanour. We increase our productivity by operating in a manner that does not squander a single minute of your time. So commit your next project to us, and you'll be a lifelong customer.
VoiceMonk Localization Service
While mentioning our native translators in the Bangladeshi Translation Service, our translators have gone through and passed a series of rigorous translation tests. These assessments help us distinguish between decent and excellent translators, and we only hire the best. Our commitment to high-quality professional translation services extends much further. Even after the translator has completed their work, native speakers proofread the material and our Quality Control linguists look for any errors. This is our tried and true technique, and it indicates that we have supplied a language translation service to our valued clients.
We're one of the few translation companies you can rely on. We have every translation solution for you if you want to expand your business and get new consumers. Our solutions may be used across all channels, platforms, and devices, and you'll be left wanting more because of our dedication and expertise.
VoiceMonk is a well-known translation agency that provides Bangladeshi Translation Services. Our services are Technical Translation, Academic Translation, Video Translation, Website Translation, Game Translation, Book Translation, Manual Translation Reach us at +91 8700295007 or

. You can mail your requirements at info@voicemonk.in
Our Bangladeshi Translation Service include:
Document Translation Agency
Legal Translation Agency
Medical Translation Agency
Technical Translation Agency
Academic Translation Agency
Business Translation Agency
Financial Translation Service
Documentary Translation Service
Multimedia Translation Service
Bangladeshi to English Translation Service
English to Bangladeshi Translation Service
Hindi to Bangladeshi Translation Service
Any Language to Bangladeshi Translation Service