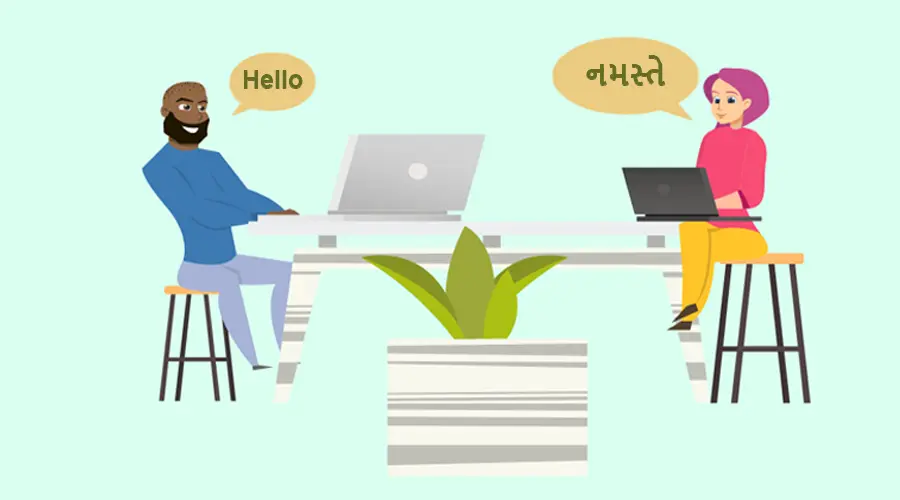 Gujarati, an Indo-Aryan language, is the native language of Gujarat and the sixth most widely spoken language in India. People who speak Gujarati aren't just in India; they live all over the world, especially in the UK and the US. There are more than 46 million speakers of the Gujarati language. It is among the 22 constitutionalized languages in India. The dialects keep varying from region to region. VoiceMonk is a versatile platform that offers a range of Gujarati translation services to its diaspora. One of the most experienced teams and expert linguists who are native speakers of the language are ready to pour their creativity into your content. Our Gujarati Translation Service is among the best in the translation industry.
Gujaratis are well-known for their work and have a global presence. It becomes extremely important that content reaches the Gujarati-speaking population, this will help expand the market across the borders. An international sales market can only be captured through diversity in content ideation, and diversity can only be purchased by maximizing reach among people.
VoiceMonk Translation Service
Our Gujarati Translation Service will help you find authentic translators who will work on your project. One major benefit of having native translation is that one can connect with the general population at ground level. This will help in understanding the market needs much more closely and will help us to mold our project accordingly. It will also help in building an emotional connection, especially when the content provided is in the native language, this move will create an upper hand among the other competitors.
VoiceMonk Studio offers services like subtitling, transmission, transcription, document translation, localization, and more. We complete our work with the highest standards of professionalism and correctness. We believe in providing content with zero errors, and this has always elevated us to the pedestal of one of the most reliable services of all time.
Our Gujarati translation service has people from many different backgrounds who can do a great job with your work. We would like for you to have a virtual tour of our website, which will provide you with a wide view of our pool of services. We can translate more than just one or two languages. VoiceMonk provides a wide range of languages, and you can choose accordingly as per your requirements. You can book our translation service now with just a few clicks.
VoiceMonk is a well-known translation agency that provides Gujarati Translation Services. Our services are Technical Translation, Academic Translation, Video Translation, Website Translation, Game Translation, Book Translation, Manual Translation Reach us at +91 8700295007 or
. You can mail your requirements at info@voicemonk.in
Our Gujarati Translation Service include:
Document Translation Agency
Legal Translation Agency
Medical Translation Agency
Technical Translation Agency
Academic Translation Agency
Business Translation Agency
Financial Translation Agency
Documentary Translation Agency
Multimedia Translation Agency
Gujarati to English Translation Service
English to Gujarati Translation Service
Hindi to Gujarati Translation Service
Any Language to Gujarati Translation Service