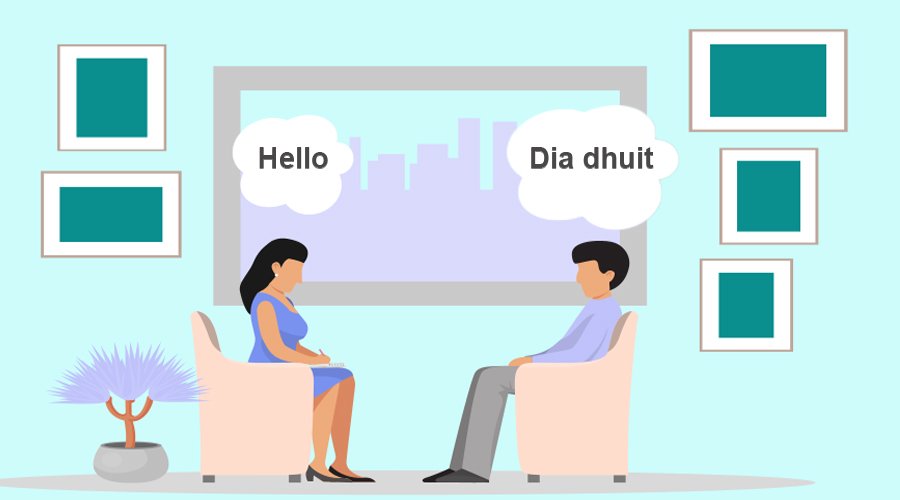 Irish is a Goidelic language that originated in Ireland. It was the population's language until the 18th century, when English took over. The Irish is spoken as the first language in several places as well. Irish is the national language and the first official language of the Republic of Ireland. It is also an official minority language in Northern Ireland. It is also one of the European Union's official languages. There are nearly 2 million Irish speakers across the globe. It has three major dialects: Ulster, Connacht, and Munster. Each dialect differs slightly in vocabulary, grammar, and pronunciation. 
VoiceMonk Translation Service
VoiceMonk gives you the language help you need to get in touch with potential customers anywhere in the world. We provide a wide selection of tailored language solutions to assist you in taking your company to the next level. You won't have to worry about anything since we will work closely with you to meet your needs. In over 80 plus national and international languages, we use cutting-edge technology to ensure that our clients' translation processes work smoothly. We not only are doing business with you, but we will also be building a long-term relationship with you. We can attain our aim for long-term success, only if we offer you premium translated content at cost-effective rates.
Your Irish translation job will be given to a certified native speaker, but before that happens, you need to tell us exactly what you need so we can get started on our end. Many translation firms use us for their work because we have a competent staff of experienced translators in every language and subject area. The way we work is based on how happy our clients are. If you need a single-page translation or a large batch of translations, we can help. We treat every document we translate with the utmost care. We do a lot of proofreading and editing to make sure that our Irish translation service is of high quality. You don't need to double-check the translation at your end; we do it here using the most up-to-date technology and software.
We also provide services in legal translation through our Irish Translation Service, as we produce a legally binding legal document translation that has been fully and accurately translated. This means that the translation is as legally binding as the original.
VoiceMonk Localization Service
Different countries' courts and legal institutions use different forms and protocols, a certified legal translation signifies that the document was created using a structure and format that are widely accepted in the country where it will be utilized. Apart from that, we also specialize in medical, technical, software, and website translation, where, just like with legal translations, the documents are translated with the utmost care and accuracy while maintaining the terminologies of the required field.
Our hand-picked team of expert sworn translators has a lot of experience. They work with us to provide the best certified translation services possible, so you can be sure you're getting the best certified translation service possible. At our Irish translation service, our experienced translators know how important it is for a translated document to be correct and delivered on time. They are also aware of the importance of a well-translated document and how much your business relies on it. At VoiceMonk, we go to great lengths to make sure that the highest and strictest standards are always met.
VoiceMonk is a well-known translation agency that provides Irish Translation Services. Our services are Technical Translation, Academic Translation, Video Translation, Website Translation, Game Translation, Book Translation, Manual Translation Reach us at +91 8700295007 or

. You can mail your requirements at info@voicemonk.in
Our Irish Translation Service include:
Document Translation Agency
Legal Translation Agency
Medical Translation Agency
Technical Translation Agency
Academic Translation Agency
Business Translation Agency
Financial Translation Agency
Documentary Translation Agency
Multimedia Translation Agency
Irish to English Translation Service
English to Irish Translation Service
Hindi to Irish Translation Service
Any Language to Irish Translation Service