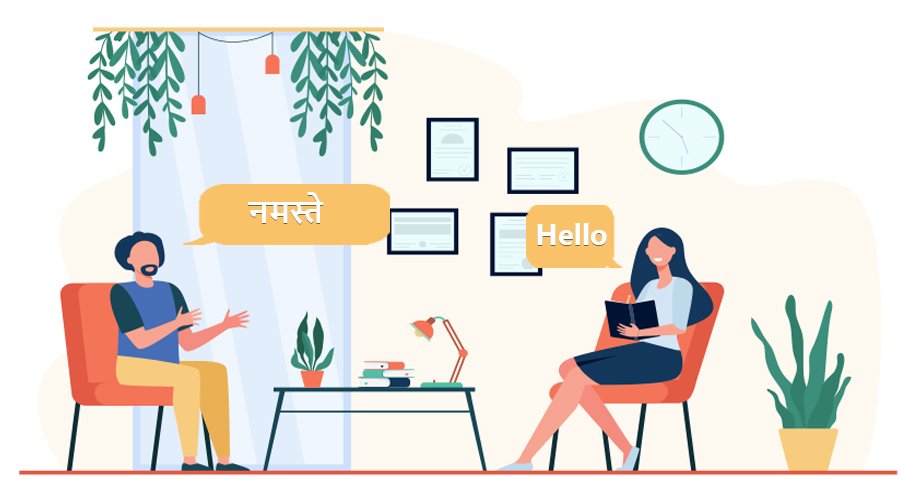 Nepali or Nepalese is an Indo-Aryan language of the Indo-European language family. It is the official language of Nepal and enjoys the same status in Sikkim and Darjeeling in India as well. The language is one of the 22 constitutionally recognized languages in India. There are nearly 17 million speakers of the Nepali language worldwide. Nearly 45% of people in Nepal speak Nepali as their first language. Nepali is a highly phonetic language, with different dialects varying from region to region. About a quarter of the people in Bhutan also speak this language.
VoiceMonk Translation Service
VoiceMonk Studio, with its Nepali Translation Service, is ready to make your content accessible internationally. With a team of native linguists, experts in the translation industry, and advanced technology, we will prove to be the solution to your long wait for the perfect place. Our team of professionals ensures that the content accuracy is maintained and is formatted correctly, so there is a minimum or no loss of information while translating the content. The first step to the success of your work is when it crosses its borders and reaches the international population. It also depends on whether the population accepts our content. By translating the text into Nepali, our translators give the experience a sense of being in Nepal. People who speak Nepali will be able to connect with it right away, breaking both the emotional and language barriers. 
You can directly contact our translators and convey your requirements as per market need. They are professional linguists with vast subject knowledge who can adapt to the change in dialects. Once the translation is done, we will run the content through various channels to minimize the chances of mistakes, as we promise to deliver accurate and authentic content. It will help build reliability with our customers. Our Nepali Translation Service has proven to be a vessel of success for many projects, and with more than 16 years of experience, our organization has claimed the pedestals of success by keeping up our astounding work in the field of translation.
VoiceMonk Localization Service
In the modern world, we have to keep up with what the public wants, and we have to be very aware of what they need. The best way to share your content is through the internet, and it shouldn't just be in one language. People from all over the world use the internet, and if the message is only in one language, that could be a problem.
You can avail of our services now with just a few clicks; we provide the best of our services and the competitive prices in the market.
VoiceMonk is a well-known translation agency that provides Nepali Translation Services. Our services are Technical Translation, Academic Translation, Video Translation, Website Translation, Game Translation, Book Translation, Manual Translation Reach us at +91 8700295007 or

. You can mail your requirements at info@voicemonk.in
Our Nepali Translation Service include:
Document Translation Agency
Legal Translation Agency
Medical Translation Agency
Technical Translation Agency
Academic Translation Agency
Business Translation Agency
Financial Translation Agency
Documentary Translation Agency
Multimedia Translation Agency
Nepali to English Translation Service
English to Nepali Translation Service
Hindi to Nepali Translation Service
Any Language to Nepali Translation Service