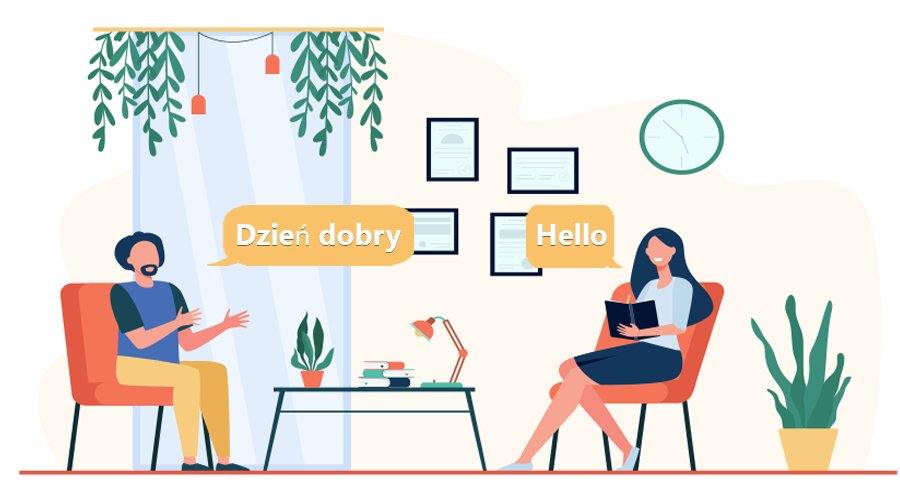 Polish is a West Slavic language, mainly spoken in Poland. It is one of the native languages of Poles. It is the official language of Poland. There are over 50 million Polish speakers around the world, and it is the sixth most used language in the European Union. The language has various regional dialects. It is most similar to Slovak and Czech, but other Romance and Germanic languages also had an effect on it. The people in Germany, the Czech Republic, Slovakia, Belarus, Ukraine, Lithuania, and Latvia also speak the language. Greater Polish, Lesser Polish, Masovian, and Silesian are dialects of the language. VoiceMonk is a full service professional language company that offers Polish translation, interpreting, localization, and language lessons.
VoiceMonk Translation Service
We provide high quality language solutions on a variety of media and communication platforms. Our language experts work in a variety of sectors and use cutting-edge technology. Our professional linguistic services network is made up of linguists with native language skills and real world expertise in different fields. For a perfect result, our project managers make sure everyone works together and have their work checked by proofreaders who know both the source language and the target language. Our mission is to go above and beyond your expectations.
In our Polish translation service, we take a holistic approach to translation and localization, which means we deal with the complete scope of your complex product. We work with our linguists to guarantee that every component of your material – a website, a video, or marketing copy – is modified for the target language and culture. Your photos, charts, and interactive elements are critical components of your offering, and we ensure that they all work together. Your content should appear and sound just as good in your target languages as it does in English. We work hard to get your message over to anybody, anywhere, at any time.
VoiceMonk Localization Service
There are numerous other instances in the aforementioned businesses, as well as other industries such as Advanced Technology, Government, and International Development, where expert translation services are required. Professional translation services can include everything from document translation to website and software localization to event interpreting. Our Polish translation service delivers linguistic services in the sectors and languages specified above. Individual project managers, as well as industry experts and native speakers of your target language, are available for your projects. With services like proofreading, editing, DTP, localization, and many others, you have complete flexibility to scale up your project.
Polish Translation Service will also help in the localization of the services, expanding into international markets necessitates more than just a translation; it necessitates outstanding localization services. Whether you're a business aiming to expand worldwide, a marketing director attempting to figure out how to present a global campaign, or a software developer building a global app, your efforts must be tailored to fit the language and culture of your target markets.
As a long time provider of translation and localization services, we have the linguistic experience, cultural understanding, and technical skills to ensure that your language localization project enters the worldwide market smoothly.
VoiceMonk is a well-known translation agency that provides Polish Translation Services. Our services are Technical Translation, Academic Translation, Video Translation, Website Translation, Game Translation, Book Translation, Manual Translation Reach us at +91 8700295007 or

. You can mail your requirements at info@voicemonk.in
Our Polish Translation Service include:
Document Translation Agency
Legal Translation Agency
Medical Translation Agency
Technical Translation Agency
Academic Translation Agency
Business Translation Agency
Financial Translation Agency
Documentary Translation Agency
Multimedia Translation Agency
Polish to English Translation Service
English to Polish Translation Service
Hindi to Polish Translation Service
Any Language to Polish Translation Service