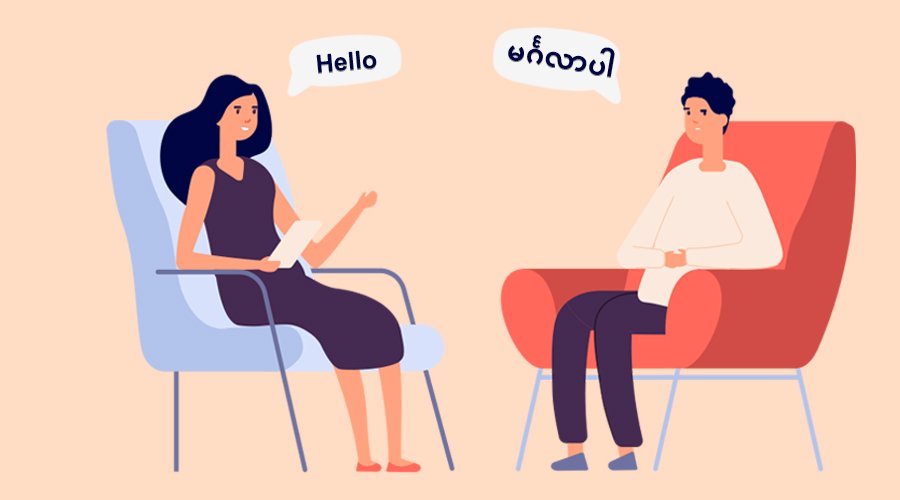 Burmese is a Sino-Tibetan language of Myanmar where it is also the official language. It is the language of Burmans, the principal ethnic group of the country. It is the first language of 33 million people and the second language of 10 million people. The language is also spoken in Bangladesh, Malaysia, Thailand, and the US. Burmese is a tonal language; it has three tones; "high", "low", and "creaky" tones. There are several dialects associated with the language varying from region to region. With over 16 years of experience, VoiceMonk Studio is the best when it comes to translating and offering a marketplace solution for our customers. Our Agency provides subtitling, transmission, transcription, document translation, and localization services, to name a few. Our clients' long-term relationships have acted as a monument to our capacity to deliver unparalleled results.
In our Burmese Translation Service, we have native Burmese speakers working on your project with the utmost professionalism. It is not a tough task, unlike translations into other regional languages; once you find a professional service provider, the work becomes straightforward. The company will be able to achieve a larger market share and facilitate foreign sales by translating the information into Burmese.
Machine translations are used by many enterprises, yet they still lack emotional and cultural nuances. The quality of the material is decided not only by clear translations but also by the harmonization of the translations with regional dialects. This will always be a benefit and a competitive advantage over the competition. The ultimate goal will be to fine-tune communications in order to overcome language obstacles and the cultural function and language divide.
Our Burmese Translation service uses native speakers who will work with our experienced staff to provide you with excellent results. We also provide the option of speaking with one of our linguists directly and relaying your preferences. We can't only limit our content to one language in today's globe; in the diaspora of online content, reach is everything, and with this Burmese Translation Service, we give you the broadest possible access to this large audience of Burmese speakers, both within and beyond national boundaries.
Apart from language translation, VoiceMonk also offers document translation, legal translation interpretation, proofreading, and a variety of other services. For an organization to have an unrivaled reach, its material must be provided in multiple languages, which is best accomplished through website translation. Imagine a place where everybody in the globe can view your website without any language hurdles, and that's exactly what we're offering you. All you have to do is tell us the language you like, and we'll take care of the rest. Our highly skilled technical team also specializes in software translation.
Our work has no deadlines; you can contact us by mail or phone at any time, and we will respond promptly. With only a few clicks, you can now book your services, and you can learn more about our services by visiting our website.
VoiceMonk is a well-known translation agency that provides Burmese Translation Services. Our services are Technical Translation, Academic Translation, Video Translation, Website Translation, Game Translation, Book Translation, Manual Translation Reach us at +91 8700295007 or

. You can mail your requirements at info@voicemonk.in
Our Burmese Translation Service include:
Burmese Document Translation Agency
Burmese Legal Translation Agency
Burmese Medical Translation Agency
Burmese Technical Translation Agency
Burmese Academic Translation Agency
Burmese Business Translation Agency
Burmese Financial Translation Agency
Burmese Documentary Translation Agency
Burmese Multimedia Translation Service
Burmese to English Translation Service
English to Burmese Translation Service
Hindi to Burmese Translation Service
Any Language to Burmese Translation Service