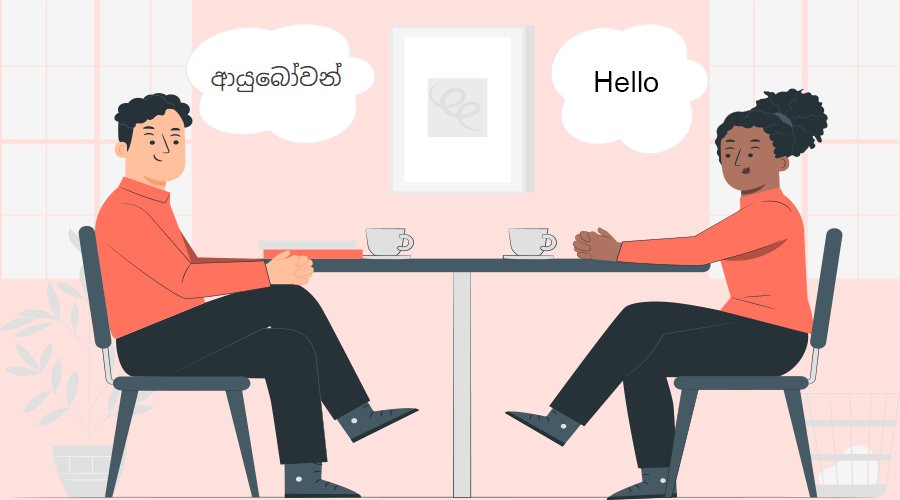 Sinhala or Sinhalese language is an Indo-Aryan language spoken by the Sinhalese people, the largest ethnic group in Sri Lanka numbering 16 million. It is the official and national language of Sri Lanka. The language has borrowed a few words from Tamil as well, as Tamil is a well-spoken language in Sri Lanka. The language has dialects spoken in Lakshadweep and Maldive Islands. There are Sinhalese speaking groups of tens of thousands of people who live outside of Sri Lanka, primarily in North America, Australia, Western Europe, and Gulf states. Nowadays when it comes to translation services most companies get stuck with online translation services, with the boom in the technological sector, they are not even to be blamed for their inclination towards easy access to everything. We must not underestimate the power of human talent. What makes material, information, and communications effective – the kind that is devoured with ease because it is professional and engaging – when you think about it? At VoiceMonk translators are chosen for their ability to provide professional text. This is backed up with a thorough understanding of the industry in which they specialize.
With over more than 16 years of experience and worked over 5000 projects we continue to grow with a team of our in-house linguists to produce the best translation service. They accomplish this daily in the most in-demand languages for worldwide corporations. Sinhalese Translation Service has ongoing internal and external training, and extra practical solutions, help to develop this translation skill. It doesn't have to be difficult to create something amazing. It all starts with an extraordinary human talent for us.
We have a large in-house team where we can assist the clients who require Sinhalese translation service; we can provide consistent results even in a short period of time. We handle multilingual scalable projects at various levels and our efficiency and reduced costs ultimately make a business more competitive. We have a reputation for providing top-notch content when it comes to our Sinhalese translation service and we work to preserve that status.
Apart from language translation services we also specialize in various other services such as document translation services where your official documents like legal contracts, reports, procedures, brochures catalogs, and many more will be translated by certified linguists. Along with this, we also provide interpreting services, website translation, which is one of the most important steps to increase the organizational reach. In legal and medical translation services the intricacy and relevance of translation necessitate the production of high-quality and accurate text within a secure and flexible workflow, often under tight deadlines. We can handle everything from single-language translations to massive multilingual projects.
We'd like to invite you to take a virtual tour of the Voice Monk website, where you can learn about our many services. Let us assure you that our services are not limited to translation. With just a few clicks, you can now get services online. We are excited to be a part of your success story and to assist you in realizing your goals. After all, it is our customers that propel us to the pinnacle of success.
VoiceMonk is a well-known translation agency that provides Sinhalese Translation Services. Our services are Technical Translation, Academic Translation, Video Translation, Website Translation, Game Translation, Book Translation, Manual Translation Reach us at +91 8700295007 or

. You can mail your requirements at info@voicemonk.in
Our Sinhalese Translation Service include:
Sinhalese Document Translation Agency
Sinhalese Legal Translation Agency
Sinhalese Medical Translation Agency
Sinhalese Technical Translation Agency
Sinhalese Academic Translation Agency
Sinhalese Business Translation Agency
Sinhalese Financial Translation Agency
Sinhalese Documentary Translation Agency
Sinhalese Multimedia Translation Agency
Sinhalese to English Translation Service
English to Sinhalese Translation Service
Hindi to Sinhalese Translation Service
Any Language to Sinhalese Translation Service