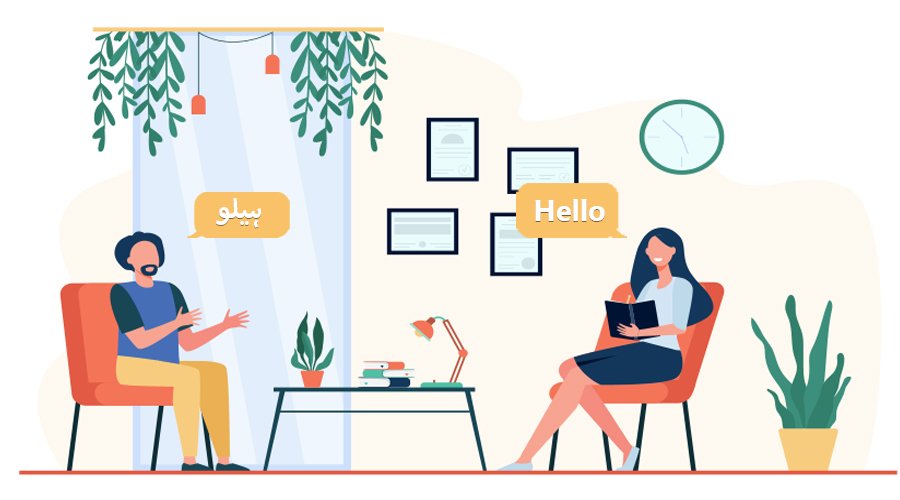 Sharing the Indo-Aryan vocabulary just like Hindi, Urdu is a living language; spoken by closely 100 million people across the world. The official language of Pakistan; is spoken in various parts of India, Bangladesh, Nepal, the Middle East, the UK, the US, and many other countries. The eleventh most widely spoken language in the world, Urdu is a poetic language and is widely used in literature. There is a slight difference between Hindi and Urdu from a grammatical point of view. One who knows Hindi can master Urdu speaking as well. Urdu has emerged from Arabic and Persian and is one of the scheduled languages in the Constitution of India.VoiceMonk intelligent online platform, which provides various services has come up with its Urdu Translation Service.
We provide native translators of the language who will be profoundly working on your content. Very few translation services provide the guarantee of authenticity in their work and accuracy in their work. There is 'n' number of translation services, which claims to provide the best of service but lacks the awareness and correctness of assets. Our studio and our Urdu Translation Service have the perfect amalgamation of process, professionalism, and technology, which will turn your idea into reality.
We are devoted into utilize our efforts and talent to deliver your project on time without any delays. We have a streamlined procedure, which is followed throughout until the process is completed. We make sure that at each stage your content is evaluated by multiple people to avoid any potential mistakes.
The content provided by you will be translated by certified linguists in our Urdu Translation service. After that, it will be rechecked to ensure the exact meaning is derived, and there is no loss of information in the translation process. Your content will be dealt with 100% confidentiality.
One benefit of our Urdu Translation Service is that it prevents any language or cultural barriers, and ensures all the quality parameters as well. Our team works in coordination with the clients to ensure all the requirements are met, and we are executing the work as per their idea.
The translation is an art, and while researching and choosing our service provider one must ensure that they choose wisely. This will ensure an international sale in the global market. Urdu Translation Service will also ensure to grab a place in South Asia and the Middle East among the Urdu Speaking Population, which is nearly 100 million in population.
We provide services at a very competitive price, so if you are willing to get into the pool of services and enjoy the most expert services, we would like to have a virtual tour of our website.
VoiceMonk is a well-known translation agency that provides Urdu Translation Services. Our services are Technical Translation, Academic Translation, Video Translation, Website Translation, Game Translation, Book Translation, Manual Translation Reach us at +91 8700295007 or

. You can mail your requirements at info@voicemonk.in
Our Urdu Translation Service include:
Urdu Document Translation Agency
Urdu Legal Translation Agency
Urdu Medical Translation Agency
Urdu Technical Translation Agency
Urdu Academic Translation Agency
Urdu Business Translation Agency
Urdu Financial Translation Agency
Urdu Documentary Translation Agency
Urdu Multimedia Translation Agency
Urdu to English Translation Agency
English to Urdu Translation Service
Hindi to Urdu Translation Service
Any Language to Urdu Translation Service