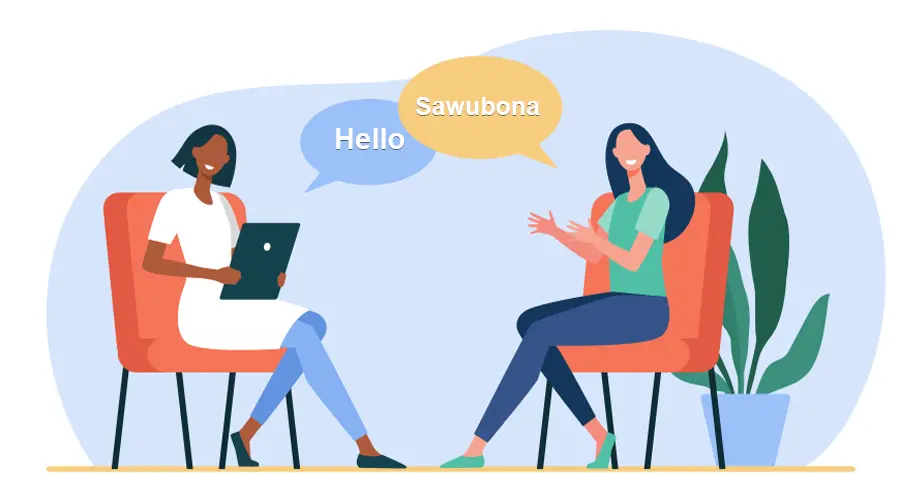 Zulu is a Southern Bantu language spoken in South Africa, there are 12 million native speakers of the language. It is the widely spoken home language in South Africa and is understood by 50% of the population. It is one of the 11 official languages of South Africa. It is the widely spoken Bantu language, after Swahili. It is also spoken by the population in Zimbabwe. There are four dialects of the language, central Kwa Zulu-Natal Zulu, northern Transvaal Zulu, eastern coastal Qwabe, and western coastal Cele. It is a tonal language. What qualities should you seek in a translation agency? If you've never used a translation service before, it may seem frightening or even dangerous. We wish to put your mind at ease. Here are some of the guidelines we use to evaluate each of our language services: Your words have meaning for you. That is something we respect. As a result, your words are in human hands from start to finish. Your documents have been translated and validated by humans, promoting human translation over machine translation.
It's also possible that a mistranslation will cost you millions! We are the most accurate translation firm, and our approach helps you save money. You'll require more than just a translation service. You'll need a variety of language services to meet all of your linguistic requirements. We provide human-powered translations that help you expand your business globally. To learn more about how we can personalize a translation for you, choose from any of our professional translation services. Our Zulu translation service also provides the specialization in localization services that help you expand your business globally. When you're releasing a product in a new market, you want your customers to feel like it was developed just for them. With our expert localization services, you'll be able to do just that! You'll be able to go much beyond simple website translation. You'll expand your company internationally.
In addition to patents, regulatory documents, software and website translation, and medical device instructions for usage, Zulu translation service specializes in the following subject areas: medicine, technology, legal, and many others. The translation is done by native speakers, subject matter experts, and medical doctors with relevant professional credentials. We can change both after and during the multi-step translation process, as well as a separate assignment provided by our customer, in addition to simply translating. We can also change the text that was authored by a non-native speaker. To assure quality and style, proofreading could be done by a professional linguist who is a native speaker of the target language.
This Zulu translation service paves the ground for the service's localization. This service is essential if the information is intended to be used in a variety of countries and cultures. In addition to the standard translation and editing, back translation and editing, as well as the reconciliation of many versions of the translation, are all performed. This will let folks from throughout the Zulu diaspora connect. Breaking down emotional, cultural, and language barriers can help the company gain a foothold in the local market and gain an advantage.
VoiceMonk is a well-known translation agency that provides Zulu Translation Services. Our services are Technical Translation, Academic Translation, Video Translation, Website Translation, Game Translation, Book Translation, Manual Translation Reach us at +91 8700295007 or
. You can mail your requirements at info@voicemonk.in
Zulu Document Translation Agency
Zulu Legal Translation Agency
Zulu Medical Translation Agency
Zulu Technical Translation Agency
Zulu Academic Translation Agency
Zulu Business Translation Agency
Zulu Financial Translation Agency
Zulu Documentary Translation Agency
Zulu Multimedia Translation Agency
Zulu to English Translation Service
English to Zulu Translation Service
Hindi to Zulu Translation Service
Any Language to Zulu Translation Service