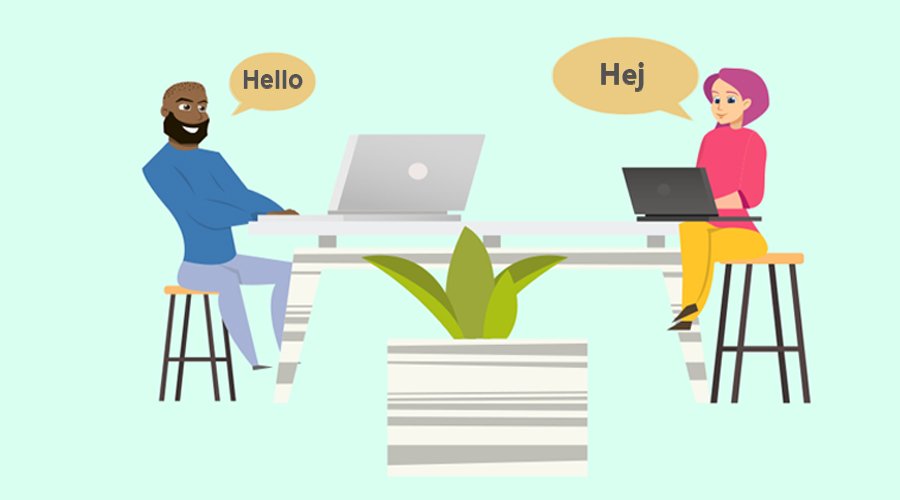 The Germanic language, Danish is spoken by about 6 million people, principally in Denmark, Greenland, Faroe Island. About 15-20% of the population of Greenland speaks Danish as their first language. The language dialects can be divided into three parts Insular Danish, Juslandic, and Bornholmian. It is the official language of Greenland. Certified, experienced, and professional translators and interpreters for VoiceMonk must pass our rigorous testing procedures. Our translators and interpreters come from all over the world and are fluent in more than 80 languages. In addition to quality, dependability, efficiency, on-time delivery, competent translators, proofreading, and editing, we give anonymity. This is an important but frequently overlooked feature of a translation company. We are dedicated to ensuring the highest level of privacy. We promise to keep our clients' personal information, translation content, and payment information confidential at all times. Our honesty, as well as the honesty of our clients, is extremely important to us. And it's the little things that separate us from the competition as the best translation company.
Many translation companies advertise low rates but fail to supply material that is sufficient for certification, while others are beyond of reach for the typical person. Danish Translation Services is available both online and offline and no matter how you contact us, you will receive the same high-quality services at the most competitive prices a translation agency can offer. When you deal with us, there are no hidden fees for additional services. Many organizations charge extra fees to their clients for revisions, editing, and proofreading of the translated text. On the other hand, we have always provided the best customer service to our clients and have never compromised on our work. For instance, we don't charge extra for proofreading or altering our work. There are no rush costs if you require an urgent translation because we recognize how important such work is to our clients; these are the services we provide at Danish Translation Service.
As a consequence of our hard work and dedication to our consumers, we have progressed to where we are now. One of our major priorities is customer satisfaction because happy customers are what keep our ship afloat. A happy customer is more likely to come back. A happy customer will gladly tell their friends about our services and recommend us. Our primary goal is to have happy customers. When looking for highly competent translation services, there are several options to consider. Will you require a machine or automatic translations, or will you require high-quality translations from human translators? This decision will be based on the volume, speed, intended purpose, and type of text that needs to be translated. If you hire a capable translation provider, you won't have to worry about your translated information not meeting the target audience.
Believe it or not, we get a lot of calls from far-flung clients asking if we can help them. We always try our hardest to expand our reach, whether it's a corporate or an individual.
VoiceMonk is a well-known translation agency that provides Danish Translation Services. Our services are Technical Translation, Academic Translation, Video Translation, Website Translation, Game Translation, Book Translation, Manual Translation Reach us at +91 8700295007 or

. You can mail your requirements at info@voicemonk.in
Our Danish Translation Service include:
Danish Document Translation Agency
Danish Legal Translation Agency
Danish Medical Translation Agency
Danish Technical Translation Agency
Danish Academic Translation Agency
Danish Business Translation Agency
Danish Financial Translation Agency
Danish Documentary Translation Agency
Danish Multimedia Translation Agency
Danish to English Translation Service
English to Danish Translation Service
Hindi to Danish Translation Service
Any Language to Danish Translation Service